By Sujit Nath
Someone pulls the string to open an improvised spring lock of the main door. "Please come inside. Be careful, the stairs are narrow," instructs a voice from the first floor of the dilapidated red building.
These residential quarters would have sprung up about a century ago in Kolkata's booming mercantile neighborhood. Burrabazar in Kolkata has been a second home to Marwaris—the trading community from Rajasthan—who first came here in the seventeenth century to dabble in yarn and textile business.
Inside the room, a lady in 40s introduces herself. "I'm Purnima Kothari, sister of Ram and Sharad Kothari. The Kothari brothers who laid down their lives for construction of Ram Temple in Ayodhya".
MANDAL Vs KAMANDAL
It was an unusually volatile winter in the annals of Indian politics. The sequence of events that unfolded beginning from August 1990 would change the social contours and completely alter the fault lines disrupting a status-quo which existed since Independence.
Less than one year into power, faint rumblings of discontent within the VP Singh-led National Front government were assuming a measured cadence. Haryana strongman and deputy-Prime Minister Davi Lal was fast becoming a parallel rallying point in the single largest party of the alliance, Janata Dal.
Chandra Shekhar—denied the PM's job—was quietly waiting in the wings to strike back.
Politics, VP Singh said, was about managing contradictions. He as the Prime Minister had no dearth of that—his government surviving on the support of the Left and a resurgent BJP riding the Ayodhya wave to register its highest ever tally till then—84 Lok Sabha seats in 1989 general elections.
To counter the challenge from within and outside, VP Singh dusted out the recommendations of the BP Mandal Commission Report constituted by Janata Party government. In August, he announced 27% reservations for socially and educationally backward classes or the OBCs in government jobs and educational institutions.
BJP saw the quota call by VP Singh government an attempt to split the larger Hindu constituency that the party was attempting to mobilise. LK Advani, in a counter move, soon announced Ram Rath Yatra to drum up support for the construction of Ram Temple in Ayodhya.
The Yatra was to be flagged off from Somnath in Gujarat on 15 September 1990. For the next 45 days, it would wind its way across the country, to reach Ayodhya on the 30 October, coinciding with Vishwa Hindu Parishad's call for kar seva near the disputed site.
To whip up support for the temple movement, Advani, it was decided, would cover 300 km distance a day, addressing six public meetings, sone at places considered communally sensitive.
TWO BROTHERS, ONE UNFULFILLED PROMISE
Ram and Sharad Kothari were regular at the Rashtriya Swayamsewak Sangh (RSS) shakha held near their residence at Burrabazar.
Aged 22 and 20, they had cleared first two years of the three-year RSS training course. Like many RSS activists, Ram and Sharad also decided to respond to VHP's call for kar seva. On 20 October 1990, they told their father Hiralal Kothari of their plan to travel to Ayodhya.
I started crying when I heard my brother were going to Ayodhya. They had promised me that they would be back to attend my marriage.PURNIMA KOTHARI
Their father was reluctant as his daughter Purnima's marriage was to be fixed for December second week. He asked at least one of the brothers to stay back to make arrangements for the wedding. The two Kothari brothers, however, remained adamant.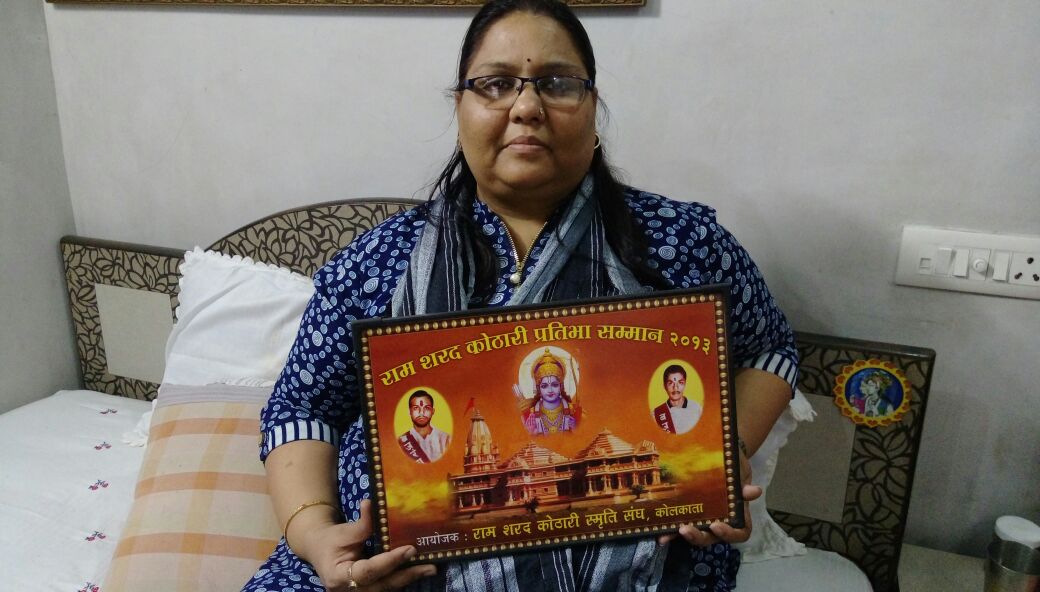 Aged 22 and 20, Ram and Sharad had cleared first two years of the three-year RSS training course. Like many RSS activists,they also decided to respond to VHP's call for kar seva.
"My father agreed on one condition. He asked them to write letters every day. Before leaving for Ayodhya, they bought several postcards so that they could write letters. I started crying when I heard my brothers were going to Ayodhya. They had promised that they would be back to attend my marriage," says Purnima.
On 22 October, Ram and Sharad Kothari boarded a train to Ayodhya.
WHEN LALU YADAV ORDERED ADVANI'S ARREST
On October 23, Advani's Rath was stopped at Samastipur and he was arrested on the orders of the then Bihar Chief Minister Lalu Yadav.
By now, anti-Mandal agitation in the north and west India had taken a definite shape. Mandalites in Janata Dal were hardening their position. Ram Vilas Paswan, Sharad Yadav and of course there were the two young Yadav leaders trying to find their feet in the adjoining Hindi-heartland states—Lalu and Mulayam Singh Yadav.
As Advani's Yatra wound its way from west to east, anti-quota protests singed the northern parts of the country. A good one week ahead of Advani's scheduled arrival at Ayodhya, a Delhi University student Rajiv Goswami set himself on fire, protesting the VP Singh government's decision to implement the Mandal Commission report.
Goswami suffered 80% burn injuries, but survived. He went on to become President of the Delhi University Student's Union. Fifteen years later, he died of jaundice in Delhi. Unnoticed.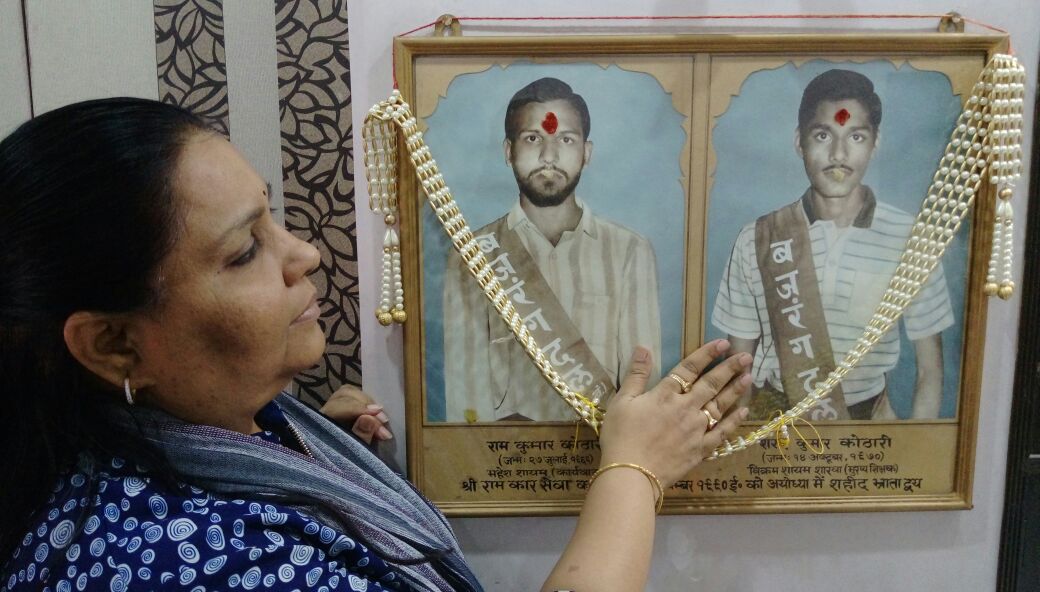 "I started crying when I heard my brother were going to Ayodhya. They had promised me that they would be back to attend my marriage."
Goswami's bid at self-immolation and Advani's rampaging Rath in October 1990 redrew the caste fault lines in India. Four decades after Independence, the country had entered a new phase, the pradigm had finally shifted with backward communities beginning to assert their numerical strength for a share in power.
HOISTING SAFFRON FLAG ON BABRI MASJID
Accompanied by their friend Rajesh Agarwal, Kothari brothers could only travel up to Varanasi by train. By the third week of October, the UP government had regulated movement by road and train to stop kar sevaks from mobilizing in Ayodhya.
The young kar sevaks then took a taxi, but were soon accosted at a police picket, forcing the three to walk nearly 200 kilometers to reach Ayodhya around 4 am on 30 October.
By afternoon, the crowds began to swell at Mani Ram Das Ji Ki Chawni road, in front of Valmiki Bhavan, in Ayodhya. Despite police warnings, the jattha lead by Kothari brothers decided to climb atop the disputed structure and hoist the Bhagwa Dhwaj (saffron flag).
"Ram Kothari could be seen standing on the top of the mosque holding the Bhagwa Dhwaj and I, along with Sharad, standing a step beneath him," recalls Rajesh Agarwal.
It was a direct challenge to UP Chief Minister Mulayam Singh Yadav's warning at the height of the Ayodhya movement.
"Wahan parinda bhi par nahin maar sakta," UP CM had said.
POLICE FIRING THAT KILLED 16
Three days later, on the occasion of Kartik Purnima kar sevaks started to gather in front of Hunuman Garhi, a stone's throw away from the disputed structure.
"Hundreds of kar sevaks gathered at Hanumangarhi under the leadership of Ram and Sharad Kothari when suddenly a large contingent of police force arrived and began indiscriminate firing. For 45 minutes, we saw police violence like never before. That time I lost contact with Ram and Sharad," says Rajesh Agarwal.
Journalist Triyug Narain Tiwari, who was covering the events for Hindi daily Jansatta, recalls that the then district magistrate Ram Sharan Srivastava was present at the sight when the violence unfolded. "Kar sevaks marching towards disputed site were stopped by the police. All of them sat on the road in protest and started singing bhajans. They tried to move forward slowly… but suddenly some kar sevaks tried pushing ahead. After that I don't know what happened as police started firing," says Tiwari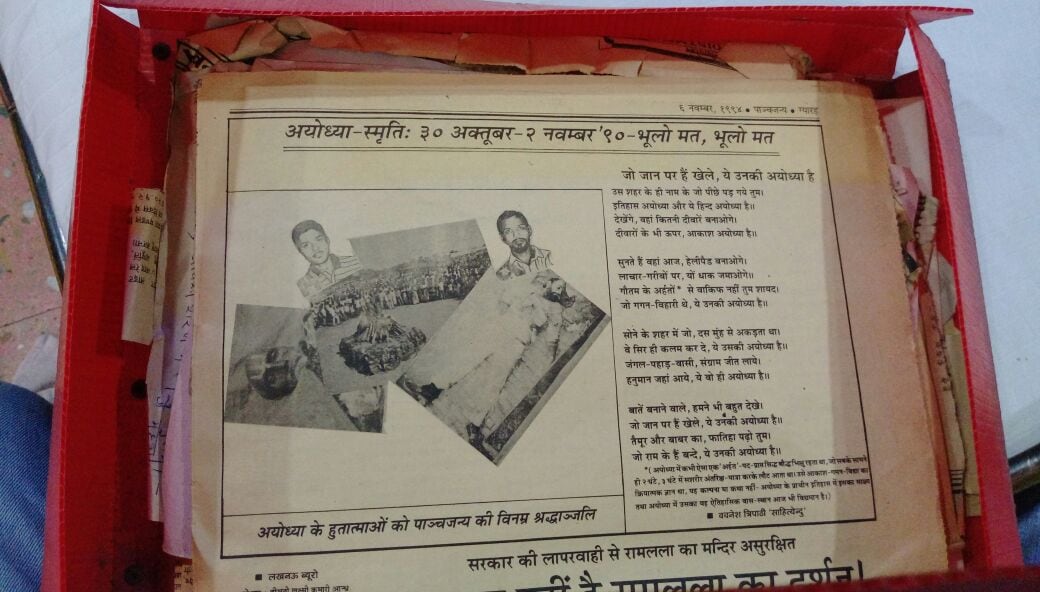 "My brothers sacrificed their lives for motherland. They happily embraced death for the sentiments of Hindus, for Ram Lalla."
According to official records, 16 people died in police firing.
Bodies of Sharad and Ram Kothari were later found in a narrow lane near Hanumangarhi.
A NEW ERA IN POLITICS
Arrest of Advani triggered fast-paced political developments in Delhi. BJP with 84 MPs pulled out of the VP Singh government. The second non-Congress experiment in Delhi lasted a mere 11 months. Chandra Shekhar broke away from the Janata Dal to launch his own party and formed a government with the support of Congress led by Rajiv Gandhi.
Lalu Yadav became the messiah of backwards and Muslims in Bihar. Mulayam Singh consolidated the same Muslim-Backward vote bank in UP and survived with outside support from the Congress.
They tried to move forward slowly but suddenly some kar sevaks tried pushing ahead. After that I don't know what happened as police started firing.TRIYUG NARAIN TIWAR
It was socialist Mulayam Singh in a completely new avatar—earning the sobriquet Maulana Mulayam.
Many years later, Mulayam would regret ordering firing on kar sevaks that day in Ayodhya. His action was necessary, he reiterated, to "uphold the faith of the Muslim community and preserve the unity of the country."
DID MY BROTHERS DIE IN VAIN?
"My brothers sacrificed their lives for motherland. They happily embraced death for the sentiments of Hindus, for Ram Lalla. But unfortunately, even after so many years, the temple is yet to be build. People forgot us. Some time I question myself, was it a wasted martyrdom," says Purnima Kothari.
"If not, then why are we still awaiting a 'Bhavya Ram Mandir' in Ayodhya? Why the Mulayam Singh government treated us like criminals whenever we tried to organise events in memory of my brothers in UP," she asks.
"My mother Sumitra Devi and father Hiralal ji passed away with a regret of not seeing the fruitful results of their son's sacrifice for Ram Lalla. For us, Ram and Sharad both are martyrs and people will always remember their contribution in the Ram Janam Bhoomi movement."
ALL THAT REMAINS IS A POSTCARD
In first week of December 1990, a month after Kothari brothers died, a postman came to Khelat Ghosh Lane and slipped a postcard inside the main door.
It was a letter written by Sharad Kothari hours before his death. "I opened the letter and broke down. He had asked me to take care of ma and baba and asked me not to worry as they would come to attend my marriage," recalls Poornima Kothari.
A fortnight later, Poonima Kothari got married in a simple ceremony.
Their mother, Sumitra Devi, in an article published in a leading English Daily in 1999, said, "The leaders involved in the Kar Seva movement were not honest and used common people for their political interest. Even after so many years we are yet to see a Ram Temple in Ayodhya."
When asked, VHP International Joint General Secretary Surendra Jain says, "Kisi ka balidan vayartha nahi jayega. (Lives of those who sacrificed for Ram Mandir will not be wasted). Not only Ram and Sharad Kothari, but it's a matter of all the Kar Sevaks. All I can promise them is that construction of Ram Mandir will start from October 2018. It was declared in 'Dharam Sansad' and no one can stop it now."
Purnima and Rajesh Agarwal now run an organization called Ram-Sharad Kothari Smriti Samiti. Purnima also looks after his family business of iron parts and living with his daughter.
"Every day we are seeing a new face claiming to be the leader of Ram Janam Bhoomi Movement. I would like to question all these people where were they when the firing took place in Ayodhya," Agarwal asks
Source – https://www.news18.com/news/immersive/25-years-of-babri-demolition/martyrs-or-victims.html